Modernizing a Landmark Office Tower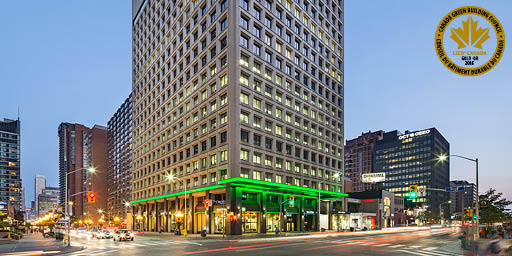 Category
Value Creation
Office
21 storeys
393,000 SF
Ownership
Co-Investment -
Morguard REIT and
Institutional Client
Services
Asset Management
Development
Property Management​​
Leasing
Modernizing a major commercial property co-owned by Morguard REIT has unlocked substantial v​​alue for shareholders, investors and tenants – including an increase in leasable space and dramat​ic savings in operating costs and tenant satisfaction.​
The Opportunity
Retrofit a 40-year-​old, 21-storey, 393,000-square-foot office building in downtown Toronto to LEED Gold Standard for Existing Buildings by improving the energy and environmental performance.
The Value Proposition​
Following the acquisition of the landmark building in 2009, Morguard and its co-owner identified the pote​ntial for real value growth through a significant retrofit at 77 Bloor Street West. To realize the vision, a detailed baseline analysis was u​nder​taken by Morguard's Development and Asset Management teams.
The outcome of the analysis p​ointed to an optimization strategy that would:
add leasable are​a to the building​
significantly reduce operating costs​
improve tenant comfort
align to tenants' business, financial, and operational goals​
The Result
Increased cash flow and property value through the renewal of a 10-year lease with the primary tenant, TD Waterhouse, and added almost 20,000 leasable square feet.
Improved tenant comfort and satisfaction. There was immediate engagement by tenants in environmental programs in support of energy and water savings.
​​​Achieved a 36% reduction in energy usage, resulting in savings of almost half a million dollars in annual operational cost. This performance was recognized with the CivicAction Race to Reduce Greatest Energy Reduction Award in 2015.​ ​​​
Achieved LEED GOLD for Existing Building.