Excellence in Risk Management
Canada's Safest Employers Award 2019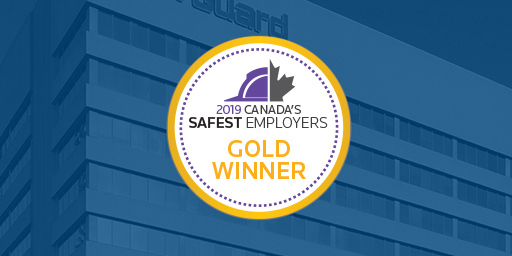 Category
Operational Excellence
Office, Industrial, Retail,
Multi-Suite Residential
Ownership
Morguard Owned and
Managed Portfolio
Services
Occupational Health and
Safety
Property Management​​
Risk Management​​
Continuing to proactively seek out and embrace occupational health and safety opportunities has made Morguard one of Canada's safest employers for a seventh consecutive year in 2019.
The Opportunity
Proactively address potential hazards and collaborate on risk mitigation by developing programs that allow for greater control and customization while encouraging inclusive program planning, implementation and measurement.
At Morguard, the alignment and engagement of senior leaders, managers and staff across the organization ensures all employees are active participants in the company's occupational health and safety (OHS) program by making everyone accountable.
All team members are encouraged to provide feedback to improve the company's health and safety initiatives with the purpose of keeping everybody safe from potential risks.
The Value Proposition
The implementation of Morguard's OHS initiatives is a shared responsibility amongst all team members. Morguard's commitment to workplace safety goes beyond providing safe workplaces and instead promotes awareness across all organizational levels by advocating the importance of taking care of each other.
Morguard's unique approach to developing processes in-house is integral to the success of its OHS strategy. The system focuses on a collaborative culture where employees share the responsibility for each other's safety and welfare. This approach differentiates Morguard and consistently leads to improvements on key OHS metrics.
The goal to identify, prevent and mitigate workplace accident, injury, or illness across the organization is attained by:
Recognizing shared responsibilities
Following all safety rules and practices
Co-operating with government officials who enforce safety legislation
Taking the necessary steps to protect oneself and fellow employees
Attending required safety training
Communicating openly and in a timely manner
Immediately reporting all accidents, injuries and unsafe practices or conditions
Senior management is also involved and committed to the OHS initiatives, supporting all activities implemented by the Risk Management team.
The Result
In 2019, Morguard was recognized for the seventh consecutive year as one of Canada's Safest Employers by Canadian Occupational Safety.
This approach to risk management in occupational health and safety is key to maintaining a productive workforce, managing liability for property owners, and upholding a reputation as a landlord of choice. Keeping safety at the forefront of all initiatives is what continues to make Morguard a top performer and one of Canada's safest employers year-after-year.
For more information, visit Canada's Occupational Health and Safety Magazine.
"We are so proud to receive this award once again. Morguard's commitment to safety is supported by a strong corporate culture. We understand the need for an extensive occupational health and safety program, backed by senior management, to ensure our business, employees and stakeholders are aligned with our goals. Our teams are dedicated to continuously improving our occupational safety."
– K. Rai Sahi, Chairman and CEO, Morguard Corporation