Morguard-led Hotel Redevelopment
The Hilton Garden Inn & Homewood Suites, Ottawa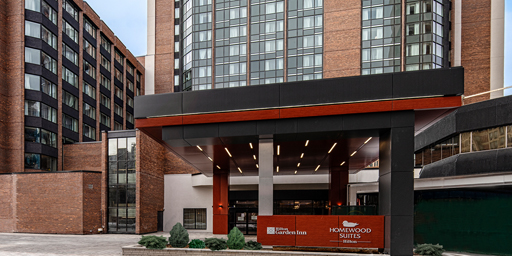 Services
Asset Management​​
Development
Extensive market research and the combined efforts of some of the most talented engineers, architects and designers to redevelop and modernize a 44-year-old building, earned the trust of one of the most prestigious brands in hospitality in the world.
The Opportunity
Morguard identified an opportunity to strategically redesign and entirely transform an end-of-life two-tower hotel complex into a vibrant and modern space that offers a memorable experience to locals and visitors for short and long stays. The Hilton Garden Inn & Homewood Suites Ottawa Downtown was developed to host businesspeople, tourists and people in government relations from all over the world, helping them to feel at home and to enjoy Canada's capital 365 days a year.
The Value Proposition​
In-depth knowledge of visitors' preferences and habits and understanding the richness in the variety of reasons why they stay in Ottawa helped Morguard identify a unique opportunity for redevelopment.
The property is located within walking distance of the National Art Gallery, Rideau Canal, Byward Market, museums, shopping, restaurants and paved bike paths, and with a light rail transit station opening in 2019 just at the front door, the Hotel caters to business travelers and tourists alike.
The building, already divided in two towers, became a natural fit for Morguard and Hilton to embrace a separate extended-stay lodging and a shorter-stay facility, offering two completely different experiences for locals and visitors.
The Result
From the beginning, the team at Hilton believed in Morguard's vision and backed it with their hotel brand.
The redevelopment included creation of a brand new bank of elevators, along with a complete makeover of drains, generators, pipes, brick walls, flooring and other infrastructure, transforming the 44-year-old towers into a remarkable structure from both a design and functional perspective.
The modernization of both towers called for new heating, ventilation and air conditioning system, boilers and windows, all to ensure that the new buildings contain upgrades that offer guests a healthy environment, embedding sustainability since the towers' design.
Architectural and technological upgrades injected new life and value into the towers, providing them with all they needed to offer two unique and separate experiences:
a 10-storey Hilton Garden Inn, providing 175 guest rooms for short-stay accommodations, and
a 17-storey Hilton Homewood Suites, providing 171 guest rooms for extended-stay accommodations, that includes kitchen appliances such as dishwasher and microwave
The property offers 5,000 square feet of conference space, a business centre, a business hub and full-service amenities including a restaurant, bar, fitness facility and pool, to meet the market's needs in Ottawa, mainly composed of travelers who come to the city for business or government relations.
The building's impressive transformation features green initiatives including energy-saving practices in laundry and recycling processes.
The transformative redevelopment at the Morguard-owned hotel is among the ten largest hotels in Ottawa with 346 suites.
The Hotel is a testament to Morguard's commitment to develop and redevelop existing property for long-term value – and to further invest in known markets such as Ottawa.
"Morguard's team members have every reason to be proud to be part of this unique project that is changing the dynamics of Ottawa's hotel industry." – Denis Gilles, General Manager
You can view a rendering video of the Hilton Garden Inn & Homewood Suites Ottawa Downtown, created by Morguard's team of architects and designers.