Heritage Building Transformation
Robson Central - Heritage Building Transformation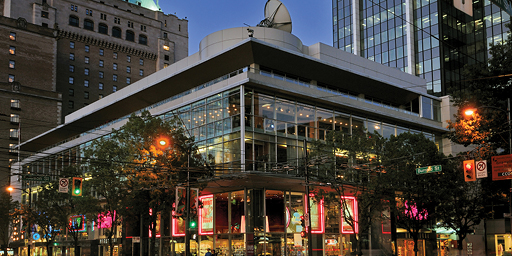 Category
Operational Excellence
Sustainability
Ownership
Institutional Client
Managed by Morguard
Services
Asset Management​​
Development
Property Management​​
Optimizing resources and involving major tenants in the transformation of a heritage building, Robson Central was recognized with the Energy Saver – Performance Award from Healthcare of Ontario Pension Plan (HOOPP).
The Opportunity
Reduce energy consumption while maintaining high performance and comfort for its tenants, by implementing innovative methods of energy regulation in a challenging 24-hour / 7-day cycle.
The Value Proposition​
Built in the 1950s, the downtown Vancouver building served the community first as a library and is now home to major tenants including media companies Bell Media/CTV, the Globe and Mail, as well as retail tenants Shoppers Drug Mart and Victoria's Secret among other retailers. The property management team and tenants worked together to overcome the challenges associated with operating in a 60-year-old retrofitted library, with outstanding results. The strategy involved:
Openness to collaboration in pursuit of common benefits and working together to overcome unexpected challenges
Collaborating with strategic partners to implement a direct digital control (DDC) system, innovative analytics software used to continuously monitor and improve building performance and energy consumption. The integration of a single building management system (BMS) platform was required to increase building efficiencies while maintaining the tenants required comfort levels
Recommissioning the building to ensure equipment and systems operate optimally, through a rigorous investigative approach to identifying problems and systems integration issues
Developing tailored software analytic rules, reports and features including the Golden Standard, which is being used to monitor all changes made to the Building Automation System (BAS) and alert differences between current energy usage and the set standards. This feature provides a dynamic update of indicators, creating opportunities for improvement and better use of resources
Installation of variable speed drivers (VSD) on the heating and cooling systems to increase efficiency and reduce energy consumption
Installation of sub meters for all tenants and base building equipment to provide accurate data and monitoring utility usage
The Result
HOOPP recognized Morguard's outstanding 20 per cent reduction in normalized energy intensity in 2017 versus the previous year; 2017 energy spend was 54.2 equivalent kilowatts per hour (ekWh) per square foot, compared to 68.6 ekWh/sf in 2016. The energy savings are consistently sustained throughout the 24-hour / 7-day cycle on which the heritage building operates.