BOMA International TOBY Award Winner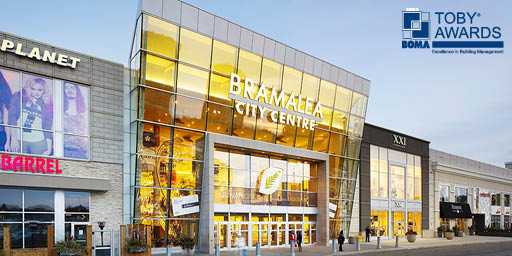 Category
Operational Excellence
Retail
1.5M SF
Ownership
Morguard Corporation
and ​Third Party
Co-Investors
Services
Asset Management
Development
Property Management​​
Leasing
Demonstrating ​​exceptional asset management, development,and property management capabilities, Bramalea City Centre ​is the first Super Regional Sho​pping Centre in the world to ​receive the inaugural BOMA International TOBY Award.​
The Opportunity
Bramalea City Centre (BCC) is the dominant super regional shopping centre in Brampton, the fourth largest enclosed shopping centre in Ontario, and the seventh largest in Canada – and home to more than 300 stores and services. To remain competitive with the surrounding retail market and to meet the demands of the rapid population growth, Morguard undertook a 300,000 square foot expansion with an objective to consolidate area trade, improve operational efficiencies, and enhance the retail experience.
The Value Proposition
Consolidate Area Trade
Morguard realized a fully managed strategy to consolidate the retail trade area in the Brampton market. A $185 million expansion, renovation, and remerchandising program led by Morguard in 2010 resulted in growth of the international, national, and regional tenant mix that continues to enhance the property's performance and value.
Improve Operational Efficiencies
Morguard's sustainable building system design supports improved o​perational efficiencies through built-in monitoring to better manage air quality, utility and HVAC distribution, water-savings, and gas emissions. Tenant engagement in energy, water and waste programs drives further ongoing benefits at the Centre.
Enhance Retail Experience
With annual pedestrian traffic of 16 million, Morguard's leasing team secured an expanded fashion tenant mix to meet the growing needs of consumers. Strong community relations, events, and fundraisers make BCC a destination venue. The recent launch of the Loyalty Program FashioniCITY smartphone APP provides more ways to improve the shopping experience for mobile shoppers.
The Result
The 2015 BOMA International TOBY Award distinguishes the Centre as an exceptional leader – managed to the highest standards in the commercial real estate industry. This designation supports Morguard's capabilities that have resulted in:
Increased retail trade conducted at the shopping centre by 42% since the renovation and expansion in 2010 and increased annual pedestrian traffic by 4 million visits.
Improved operational efficiency with reductions in energy (8.7%), water (0.9%), gas emissions (10.0%), and waste (27.2%) since the baseline year in 2010.
Reinforced the excellent shopping environment in which tenants can maximize sales and increase bottom-line results and cu​stomers can fulfill their needs.