News & Knowledge
2022 U.S. Economic Outlook & Multi-suite Residential Rental Market Fundamentals 
2022 U.S. ECONOMIC OUTLOOK
AND MULTI-SUITE RESIDENTIAL RENTAL MARKET FUNDAMENTALS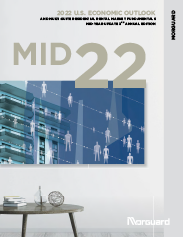 MARKET FUNDAMENTALS HAVE IMPROVED IN MOST METROS
Vacancies are falling to a benchmark low and rents are reaching a record-high.
U.S. RENTAL MARKET IS SURGING
Rental demand is fueling record-high rental growth, low vacancy rates and an increase in construction activity.
Discover the latest national and regional performance trends, forecasts and analysis in Morguard's 2022 U.S. Economic Outlook report.
GET ECONOMIC INSIGHTS WEEKLY
Sign up for Morguard's weekly research newsletter and we'll deliver national and metropolitan economic insights and commentary right to your inbox.