News & Knowledge
2023 U.S. ECONOMIC OUTLOOK
AND MULTI-SUITE
RESIDENTIAL RENTAL
MARKET FUNDAMENTALS
4TH ANNUAL EDITION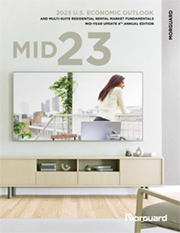 INVESTMENT ACTIVITY GEARING DOWN DRIVING TRANSFORMATIVE CHANGE
Property value adjustments are anticipated. Downward pressure on rents likely to occur as capitalization rates rise.
RENTAL DEMAND PATTERNS WILL MODERATE
Rental inventory is projected to increase modestly in 2023 due to peaks in new supply.
INVESTMENT ACTIVITY TO GAIN TRACTION
Buyers will be more active as interest rates level off in the medium-to-long term.
Discover the latest national and regional performance trends, forecasts and analysis in Morguard's 2023 U.S. Economic Outlook report.
GET ECONOMIC INSIGHTS WEEKLY
Sign up for Morguard's weekly research newsletter and we'll deliver national and metropolitan economic insights and commentary right to your inbox.