Creating Value − Downtown Core of Ottawa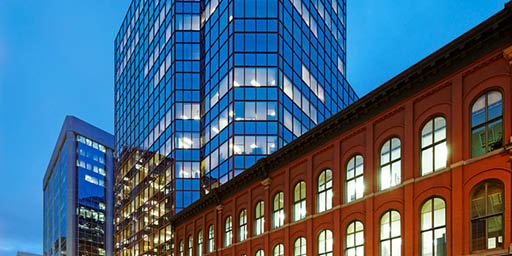 Ownership
Co-owned by Morguard
REIT and Institutional
Client
Services
Asset Management​​
Development
Property Management​​
Creating value - a vibrant destination with public transit LRT - at Heritage Place in Ottawa's downtown core through a revitalization and remerchandising strategy.​
The Opportunity
Realize value creation at Heritage Place in Ottawa through a revitalization, remerchandising, and transit-orientated strategy resulting in long-term revenue generation and Funds From Operations (FFO). Co-owned by Morguard REIT, the 218,000 square foot Class A Office tower with a heritage retail component, presented a strategic opportunity to make this property a vibrant destination to work, shop, and dine.
The Value Proposition​
Position Heritage Place as a primary choice for government and private sector office tenancies in Ottawa's downtown core.
Leveraging Morguard's combined asset management, leasing, and development expertise, to plan and execute a redevelopment, renovation, and remerchandising strategy to maximize on its proximity to the new LRT rapid transit, while re-invigorating the main floor lobby and the building street presence.
Leverage Morguard's strong relationship with City of Ottawa to negotiate incorporating a LRT station entrance into the main lobby and below grade retail, providing with direct access to and from the property to public transit.
The Result
Managed a remerchandising strategy that led to the placement of a Winners retail store on the lower level of the property and a Bier Markt restaurant at street level. These long-term leases add to the strong government tenancy at the office tower – and strengthen long-term revenue generation and Funds From Operations (FFO).
Negotiated and co-funded the build out of a LRT station partially within the building. The new station, to be called Parliament Station, will have direct access to and from the building. The main lobby station entrance connection, with below grade access to Winners, and the new LRT system will be completed in 2017. The Confederation Line LRT will be completed and operational in July 2018.
Received a BOMA BEST silver certificate in 2015. Connection to LRT rapid transit will be increasingly a market differentiator for prospective office tenants. This feature and its convenience greatly encourages the use of public transit and a more sustainable downtown.