Morguard Supports Pollination Efforts Across Canada​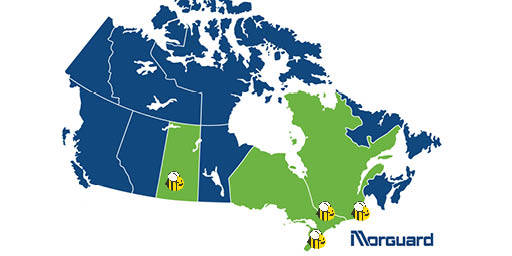 Locations
Saskatoon
Toronto
Brampton
Ottawa
Montreal
Services
Asset Management​​
Property Management​​
Synchronizing the efforts of a variety of managers and staff across the organization to acknowledge sustainability efforts. Morguard properties in Quebec, Ontario and Saskatchewan have installed beehives to assist in pollination efforts.
Morguard Hives Contribute to Pollinator Health
Bees play a crucial role in our ecosystem. Morguard is taking action and including them in our sustainability efforts. By incorporating beehives, naturalized gardens, and bee-hotels at our properties, we can have a positive impact on the bee community. Thanks to our partners at Alvéole, beehives have been installed at 12 Morguard-managed properties.
Did you know bees are on the decline worldwide? This matters to us, because one third of what we eat relies on pollination.
How About the Honey?
Some benefits of the hives are the honey and wax-based products that are produced. These products are either gifted, or donated to those in need. This year, the honey and products from three properties in the Greater Toronto Area are being donated to local charities. The Daily Bread Food Bank will be receiving 600 jars of honey, and a donation of 150 candles, 300 bars of soap and 300 lip balms is being given to The Redwood Women's Shelter.
Our Bees in Saskatoon
In Lawson Heights Shopping Centre, there is mural that connects the Safeway to the Shopping Centre. The artist incorporated the bees to remind shoppers of the role bees play in food production. The Shopping Centre also installed several behives to support pollination efforts.
Our Hives in the GTA
We have beehives at The Colonnade, 77 Bloor Street West, 65 Overlea Boulevard, 200 Yorkland Boulevard, Bramalea City Centre, and East York Town Centre. In addition to our beehives, the Holt Renfrew Centre has a bee hotel on site. Different than a beehive, a bee hotel provides food for the bees of the area. We've Got Nearly 10 Hives in the GTA.
Our Capital Bees
Our four Capital hives are located at 1601 Telesat Court, 59 Camelot Drive, 1101 Prince of Wales Drive, and 150 Elgin Street. Morguard launched the Ottawa hives in June 2019! These bees can visit trees, plants and flowers withing a 5 km radius of their hive. An urban hive can produce about 10 kg of honey each year.
Our Bees Are a Buzz in Quebec
Place Innovation houses two beehives on the roof. For people with seasonal allergies, honey produced in their living or working area can alleviate their symptoms